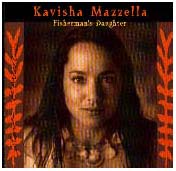 In 1998 ,Kavisha collaborated with one of Australia's best loved singer-songwriters Michael Thomas ( ex-Weddings, Parties, Anything)to create " Fisherman's Daughter".The album won the 1998 ARIA award for the best Traditional/Folk/ World music album of the year. One of the album's songs "Big Blue Above" was chosen for Australian t.v series "Seachange " Fisherman's Daughter is distributed by Mazzella Music.
REVIEW: "Kavisha Mazzella, a compelling storyteller , blends strands of appalachia , rockabilly and modern rock , along with traditional gypsy , spanish and celtic rhythms into her own unique folk-rock style on this second solo album . The true story of her grandmother , depicted in the title song is just one of the many highlights.the storytelling verses are pointed and affecting building into a contagious sing -a -long chorus that manages to be both melancholy and encouraging
Kavisha Mazzella is one of the most original talents to have turned up in ages.Throughout,the elaborate melodies are quite suprising and the music is an isolated case of magnificence utilising mandolin , guitars , bazouki, violin , accordian , harmonium and various percussive instruments . Not mainstream country by any stretch of the imagination , but the traditional mountain ballad "Polly" and "Storm About To Happen"are just two tracks that lean that way." Adrian Cooke, Country Music International 1998.
1. Big Blue Above
2. Fisherman's Daughter
3. All i Want is You
4. Gypsy song
5. Swan River
6. Viv's song
7. Fishermen pull in the sad nets
8. Lovewrecked
9. Wolf
10. Angel of Pompeii
11. Storm about to Happen
12. Polly(trad)
13. Big Blue Reprise
All songs © Kavisha Mazzella/ except no 12 which is Traditional