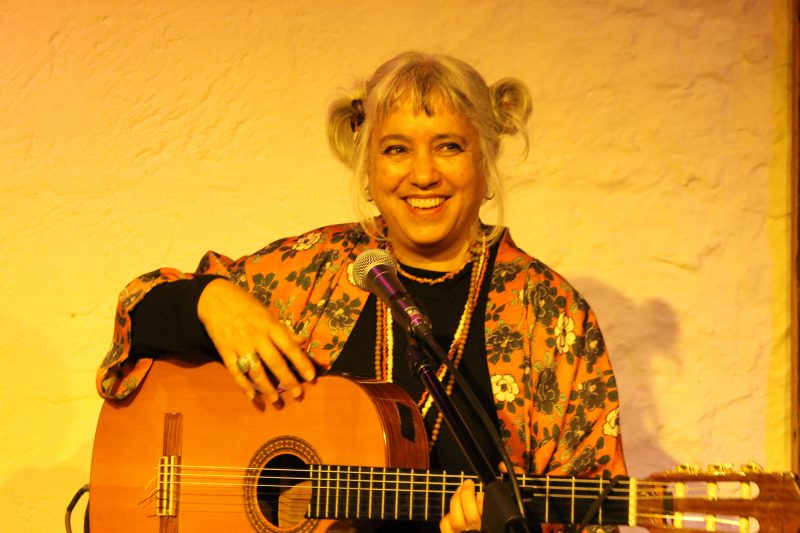 LISTEN HERE TO LOVE I CALL YOUR NAME from Kavisha's new album Empty Sky
composed by Jarek Czechowicz
SUPPORT KAVISHA'S MUSIC BY DONATION HERE THANKYOU for supporting !
KAVISHA GIG GUIDE 2020-21
FEBRUARY
FEB 24th HEART PLACE CHOIR Exolore your own voice .The inner journey ,mantras,chants ,uplifting songs ,
6 week term Starts Wednesday Mornings 11 am -12.15
every Wed til March 31st $90/$120 enquiries Kavisha 0412893355.
MARCH
March 13-17 HAND IN HAND Kidogo IRISH ABORIGINAL festival sharing the deep connection between Irish and Aboriginal communities in Australia.
March 18th 7pm Writer's Block Clancy's Fish Pub FREMANTLE
March 23 rd Tuesday 10 am FREE Concert HOlly Wood Concert at Perth Town Hall Kavisha presents her beautiful ITALIAN FOLK SONGS
March 27th 2021 ; Empty Sky Cosmic Cabaret at Fibonacci Centre Fremantle as part of the BRINK Fossil Fuel Free Festival.
NEW CD
Listen here to KAVISHA'S NEW CD Empty Sky Sacred Songs and Chants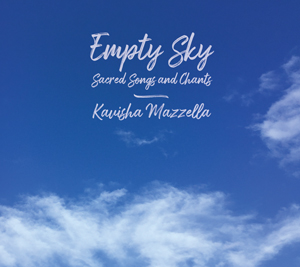 HEARTPLACE CHOIR ONGOING ( SOLD OUT / FULL CLASS )
Well being weekly CHOIR class exploring your energy , your sound, song and meditation ,
Exploring your energy and the vocal relationship to the embodied sound!
Becoming more aware through singing! Fun and inclusive .
We sing every Wednesday morning 11 am -12.15 starting Feb 24th 2021-March 31st .
enrol now HEARTPLACE CHOIR a 6 week course $120 / $90
at the HEART PLACE healing room ,
19 Blinco St FREMANTLE
WAIT LIST enquiries Kavisha : 0412893355
Listen Empty Sky Sacred Songs and Chants on Soundcloud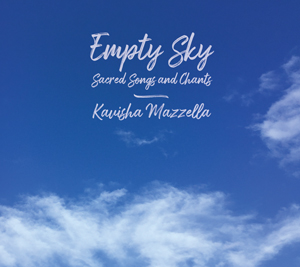 I am so pleased to be releasing my new and 8th album .
Empty Sky Sacred Songs and Chants is an album of 11 songs made up of traditional and original chants I have composed .I was lucky to collaborate with respected veteran world musician Nicolas Lyon in his wooden cottage studio in Malmesbury Central Victoria. Together we create this soulful ,acoustic album that's sure to become a good companion for yoga, meditation practice or simply chilling out. It features my voice, nylon string guitar, tibetan bells ,drum and recorder. I am also accompanied by the amazing Nicolas Lyon on bowed double bass, harp and glockenspiel.
The songs include a soulful version of Jarek Czechowicz's "Love, I call Your Name ", a reworking of the popular "Magnificence" by Peter Makena, my original melodies to traditional wisdom texts the Gayatri Mantra, Heart Sutra, Om Mani Padmi Hum, and the words of the mystic poets such as Kabir and Saint Francis. Finally ending with a rallying call for Mother Earth responding to a talk by Eco-Theologian Matthew Fox who I met at the Common Dreams Conference in Sydney in 2019.
They are holy songs for crazy times! I hope you enjoy them !
EMPTY SKY Reviews 2020
" Thankyou so much Kavisha .It's Very calming...I play this every morning to start my day with yoga " Padma Locana ,Yoga teacher Melbourne
REVIEW by ROBBIE GREIG 2020
"Empty Sky is a departure from Kavisha's usual storytelling style of songwriting. In this her latest album she is a spiritual wayfarer, a seeker after mystical
truth as expressed in both Eastern and European religions. Empty Sky is a pilgrimage to places in the world and in the mind where the sacred is still honoured.
Through a selection of prayers, kirtans, chants, devotional poetry and songs of praise, Kavisha weaves a spell of beauty and tranquility. Flowing along like a
gentle river, hypnotic, repetitive, timeless, it's no surprise that that the album is intended as an aid to meditation and relaxation. But it is Kavisha's unique
vocal qualities that are front and centre of this musical journey. From the first note, her voice grabs you and holds you captive right through to the end. There
is a naturalness and intimacy about the delivery that highlights the essential warmth and richness of her voice. In a suitably understated way, the string-based
instrumental accompaniment provided by Kavisha and Nicholas Lyon does everything to support and highlight the fine vocals.
With Empty Sky Kavisha has offered us the gift of love and peace in troubled times. "
Robbie Greig Melbourne Singer Songwriter ,mentor and music teacher.
CD ORDERS
To order your digital version of EMPTY SKY click here Bandcamp
You can order your physical CD via Paypal by clicking the button below
Thankyou !
ORDER your CDS below Folks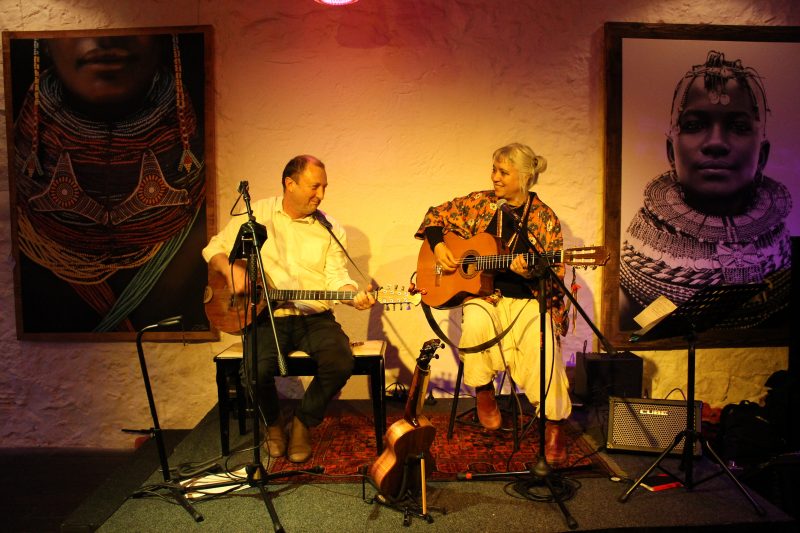 Photos ©Claire Moody 2020
Kavisha Mazzella AM Biography
Aria award winner, songbird and folkloric explorer Kavisha's original song's lyrical ingredients include humour, poetry, social justice and the spiritual. Combine this prowess with the voice of an angel and you have the experience of a Kavisha concert. Singing in English, Italian and other languages, she will take you on an uplifting boundary riding journey of well-crafted stories and songs ringing with echoes of Celtic, Fado and Gypsy influences that will strike a resounding chord within. In 2011 she was awarded an Australia Day Honour for services to music and community.
To keep in touch please join my FACE BOOK GROUP .
Yours In solidarity,Thankyou for your kind support. LOVE Kavisha
Kavisha on Youtube
NOVEMBER 2020 KAVISHA INTERVIEW with Suvas Agam from his Youtube Show SECRETS OF LIFE NEPAL