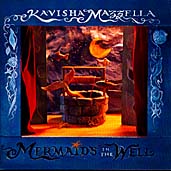 "Mermaids In The Well"(1995) is a beautiful first solo album.Under the loving guidance and musical arrangements of Lee Buddle of Crank Recording Perth West Australia) and John Reed, it took 5 years to make! It was released in 1995. It is an independant production distributed by Mazzella Music and a true labour of love featuring performances by Perth finest musicians such as Lucky Oceans, Ross Bolleter, Rich'n Famous, Peter Grayling and John Reed and Lee Buddle and many others...enjoy!
Bruce Elders REVIEW Sydney Morning Herald 1995 "There is a seductive charm about this record.It is a charm which is in part a result of Kavisha Mazzella's strikingly beautiful and clear vocals,partly a product of her ability to craft songs which mix odd cultural elements and come up with something fresh and new and partly a result of the diversity and excellence of the Perth musicians she has used, who play everything from cellos to oboes and illean pipes.
"Mazzella's talents lies in the material she has written and chosen. Across 12 tracks, she ranges from a suitably nautical musical arrangement of John Maisefields' Sea Fever" through a hauntingly beautiful version of the old Irish ballad "She Moves Through The Fair" to the genre defying "Madonna del Mare".
That a singer/songwriter of this calibre needeed funding assistance from the WA Department of Arts is yet another indictment of the cloth eared multinationals who dominate the local music industry. Bruce Elder, Sydney Morning Herald
Album content
Invisible Indivisible (K.Mazzella) 2.44
Sea Fever (K.Mazzella) 6.16
Clouds Of Glory (K.Mazzella/Buddle/White/) 5.08
Yellow (featuring "Rich'n Famous" ) (K.Mazzella) 2.45
Winds Of Heaven (K.Mazzella) 4.01
Josey Grey (K.Mazzella)4.07
She moved Through the Fair(Trad arr. Mazzella/Buddle) 4.40
Little Sister 6.17(K.Mazzella)
Pale Mothers (O.Wild lyrics / Buddle / Reed / Mazzella music)4.10
Madonna Del Mare (K.Mazzella) 3.49
You'll Hear a Little song (K.Mazzella)3.44
Vulumbrella (Trad arr. Mazzella/Buddle)4.39