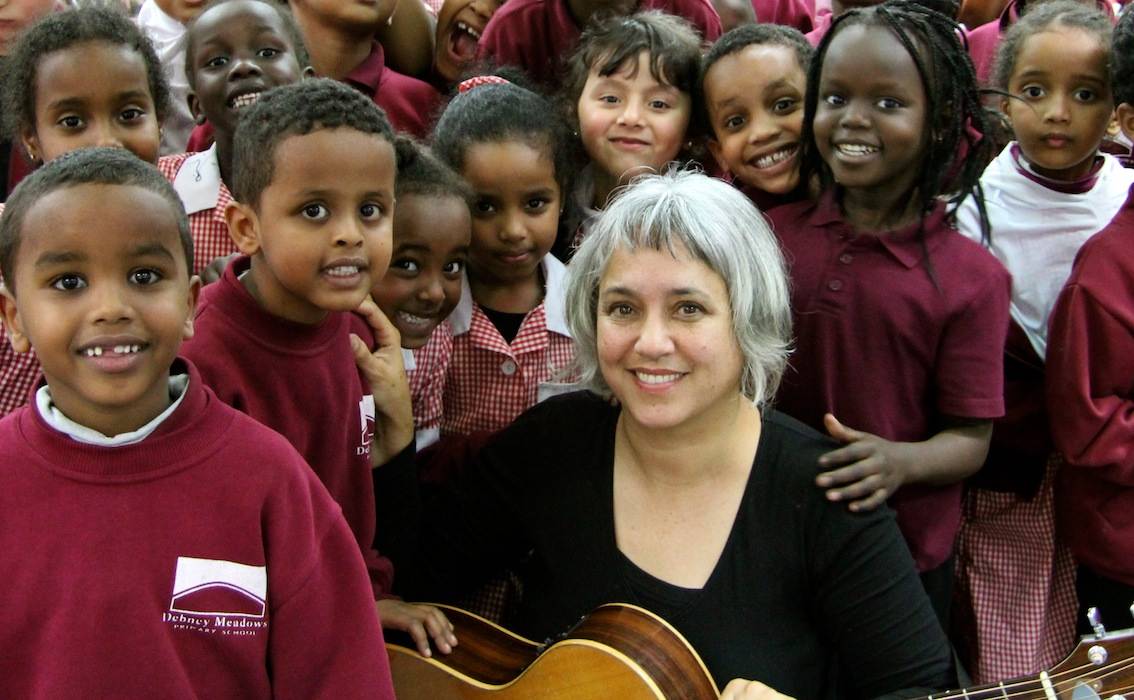 KAVISHAS PROJECTS WITH SCHOOLS
In the past I have worked with MUSICA VIVA 1993-96 and the SONG ROOM and I love working with children.
I also had the pleasure of working with 6 schools this year(2013). I was commissioned by the Songroom to write a school song for Saint Andrew's Primary School in Werribee based on thier motto" Live, Love & Learn".They now are singing this at assemblies and other gatherings.
Andrew was a fisherman
he cast his net on the water wide
Oh Andrew catch my beating heart
as it tumbles on the roaring tide
We may be young but this we know
Our elders wisdom helps us grow
Through the storms and good times too|
To live with a heart that's strong and true
Chorus
Learn to Live
Live to Love
Love to Learn
May the lamp of our hearts brightly burn
Come one come all you girls and boys
At our school we share our joy
Everyone is welcome here
To live a life that's free from fear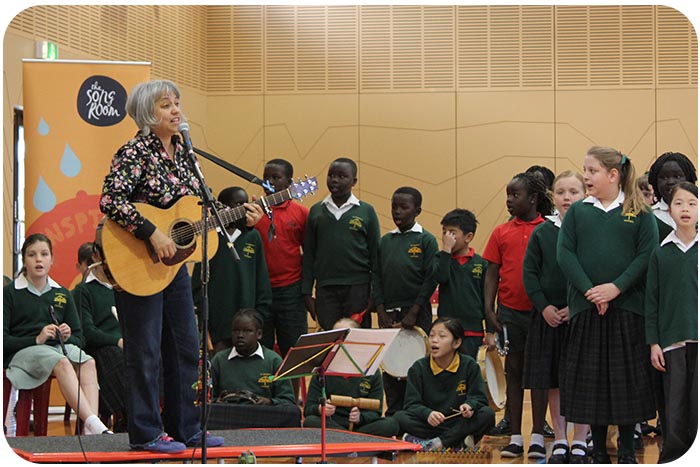 Also through the Song Room I had workshopped "Angellare`" in a music teachers workshop afew years before and it all came to fruition this year with their teacher Zoe Barry . The children of Debney Meadows Primary (listen here) re-created Angellare` with new lyrics about an owl baby who is leaving homecalle "Hoo Hoo can i follow you?"
Our Lady of la Vang is a new school for children with special needs in Adelaide. Formally Saint Anne's Special school, Mary Kelson one of the coordinators, asked me to write a healing song for them.The song tells the story of Our Lady Of La Vang in Vietnam and it brings the story to the present and talks about living in safety and freedom. I was invited to perform this with an amazing group of teenagers at the huge Catholic Interschool Music Festival in Adelaide and we got a standing ovation in Festival Hall from 2000 people! We sang it again at the opening of the school in October. Hear the new song and Watch the YOUTUBE here
Our Lady Of La Vang © K Mazzella 2013
As cold rain fell around us
we bowed our heads to pray
O lady of La Vang Forest
Please show us the way
Eat of the medicine tree you said and put your faith in me
O Lady of La Vang Forest you keep us safe and free
JOyfully safe and free
we'll live in peace together you and me
evry girl and evry boy is welcome here
Share our joy
And for all the children
so innocent of heart
always let their laughter
be the treasure we shall guard
as we teach our children
Our hearts will always beat for love and justice
to live the truth so deep
JOyfully etc...
And when we are worried
When we feel alone
Let our hearts open as you guide us home
Lady of La Vang forest as we walk upon lifes way
A new day is dawning and this we celebrate
JOyfully etc...
CORO DI BAMBINI 2013-15
And finally I had the delight to work with with 3 primary schools in Melbourne over a 3 year period. They were Princess Hill ,Brunswick North and Brunswick South West Primary Schools and I worked over a period of 3 months workshopping with the teachers Bruna Centafanti ,Marie Lyon and Anne Marie Secculi this choir of 90 wonderful children. It was called Coro Dei Bambini and its mission was to teach italian language and culture through song through linking the 3 schools in friendship through the love of italian language.We performed for the first time in late November 2013., 2014 and 2015 to delighted parents ,grandparents and teachers and made many good memories thanks to the dream of Italian teacher Marie Lyon.