KAVISHA MAZZELLA AM is an ARIA award winning singer songwriter who does not believe in world music.It's just music!!! Music unites us and Kavisha enjoys crossing musical boundaries and create community experiences in her shows.She first came to national attention with her appearance in the Franco Di Chiera documentary " Joys Of The Women" in 1993.
Drawing on her rich Mediterranean heritage she creates contemporary songs with haunting melody and lyrical depth. While her early influences come from the singer songwriter tradition of the likes of Sandy Denny,Joni Mitchell and Leonard Cohen, over time due to her passion for italian regional folksong,she has absorbed influence from the East with its modal tones and ecstatic singing styles of Indian,Arabic, Southern Italian and Gypsy influenced song and links these with western folk music influences.

Other influences that have made an impression on Kavisha's music are her interest in meditation and mysticism through the teachings of Osho ,Sufi ,Tibetan Buddhist Masters and Advaita teachings.Kavisha also leads a chanting singing group called Empty Sky .Warmth and humour spice her performance. Whether performing solo, writing for theatre or directing a choir Kavisha brings a joy of life and sensitivity into the music.
Kavisha has been a guest vocal tutor at Victorian College Of The Arts,Swinburne,and is the founder and choir conductor of Melbourne's vivacious Italian Women's choir " La Voce Della Luna"(The Voice Of the Moon)"She has been documenting italian regional folksongs remembered by Italian migrants to Australia since 1988. It is from this 500 year old repetoire that the choir La Voce Della Luna sings.
Her cds "Mermaids in the Well" (1995),Fisherman's Daughter(1998) "Silver Hook Tango "(2003) and " Love and Sorrow"(2011) are available through Blackmarket Music in Australia.
She is a winner of various awards including the 1996 Greenroom Theatre award for musical direction for Emma Celebrazione! The 1998 ARIA award for her album " Fisherman's Daughter" as best world album, the Italia Nel Mondo Award in 2000 for her contribution to the sharing of Italian Culture in Australia through setting up of Italian Women's choirs and West Australia Music Industry awards for songwriting.In 2004 she was awarded PORT FAIRY ARTIST OF THE YEAR. In 2008 Kavisha was awarded Multicultural Commission Excellence award.in 2011 Kavisha was awarded an Order of Australia for her contribution to singing ,song writing and reflecting the experiences of refugees,indigenous and multicultural communities in performance.

CHOIRS:Since the late eighties Kavisha has also been collecting Italian popular and folk songs remembered by Italian migrants arranging them in Choral form to be sung and kept alive by the choirs 'Le Gioie Delle Donne (Joys of The Women) in Fremantle West Australia and"La Voce Della Luna" (Voice Of The Moon) in Melbourne Victoria which she directed from 1996-2013.From 2011-2019 she directed the community choir" The Moon's A Balloon " for people whose lives are touched by mental illness which is sponsored by WELLWAYS Victoria.

COMMISSIONS of CHORAL ANTHEMS
Kavisha was commissioned by the Victorian Government in 2004 to write a 12 minute Choral suite"Tunc Justus"for the 150th Anniversary of Eureka Stockade .In 2007 Kavisha was commissioned by the Victorian Women's Trust to celebrate 100 years of the suffrage in Victoria by writing the "Women's Anthem"which premiered in 2008. In 2013-Kavisha was commissioned to write a school song for Saint Andrews Primary School Werribee through the sponsorship of the SONGROOM (Victoria) and a school song for the new Our Lady Of La Vang special education facility in Adelaide.
FESTIVALS Her shows have people singing along before they know it. Since 1990,She has performed extensively and also run songwriting and choral workshops at music festivals such as Port Fairy,Maleny,Woodford Folk Festival, Port Fairy Folk Festival ,Brunswick Music Festival and International festivals such as Famous Spiegletent, Femme Funk Noumea, Edinburough Fringe, Cork Arts Festival, Australia Festival in Dublin, Histeria Festiva Slovenia,European Broadcasters Union Radio Festival Miscolc Hungary.Calgary folk Festival Canada.
COMMUNITY MUSIC . Kavisha has over the years from time to time been invited to make music with various aboriginal communities.
In 1996 Kavisha toured Victoria South Australia and Northern territory with Neil Murray and the Rainmakers culminating at the Darwin festival..In 1997 Kavisha worked with Pittinjarra Student teachers in Ernabella to write songs and produce cassettes that were used by the teachers to teach english language. The songs were written over a week workshop and related stories about the participants lives.The recordings produced were used extensively in the English Language programme.
In 1999 Kavisha was commissioned to write a choral piece "Natafalinga "documenting the history of the south Sea Islanders and worked in Queensland Biennale " Journeys in Time" project in MacKay creating a choir with Opera North and Islander,Torres Straits and Aboriginal communities to sing the song in a choir together. In 2002 Kavisha worked in The Torch reconciliation project in Victoria.In 2008 Kavisha was one of the vocal teachers in "Many Roads One Voice" project which culminated in a 200 strong diverse community choir singing at the Alice Springs Festival.
Kavisha has also been an active member of The Charcoal Club with Gunditcmarra Man ,activist and film maker Richard Frankland.In past years she has also performed with Archie Roach, The Tiddas , Kev Carmody and the late Aunty Ruby Hunter recording on Ruby's second recording" Feeling Good" and toured to promote the album playing mandolin ,accordion and providing backing vocals in the band .
From 1995-2013 Kavisha lead the Vivacious Melbourne Italian Womens Choir" La Voce Della Luna" in many performance,plays and festivals
Kavisha has also worked extensively with the Refugee Community through the Fitzroy Learning Network and AMES.
Kavisha has also worked in schools with the SONGROOM and MUSICA VIVA.
THEATRE; From 1990 - 2005 Kavisha directed the music for DeckChair Theatre in Fremantle. In 2011-12 Kavisha collaborated with one of India's top actors Arjun Raina and The Colonial ,The Convict &The Cockatoo a show exploring Australian History.Since 2000 she has collaborated with author Arnold Zable In the 2 man show" Anytime The Wind Can Change' These are inspiring tales of Australia's indigenous people,immigrants and refugees. Since 2008 Kavisha also has an ongoing show about Italy, sex ,death and food with author actor and storyteller Andrew Lindsay " Mermaids in the Well and the Devil's on my shoulder!"

"Kavisha sings with the voice of a heartbroken angel" Victoria Laurie, The Australian
Whether working solo or with others,Kavisha has carved a strong reputation as a performer, songmaker, composer ,theatre worker and teacher.playing guitar,mandolin,piano accordian , it is her hauntingly beautiful voice,capable of power and nuance ,humour and spontaneity on stage that makes no two shows alike.In her music the East meets West and tracks the journeys of many migrants in the world.
Singing in English and Italian, Kavisha's songs come from the heart and take you on a witty, joyful, poetic journey .She is currently based in Melbourne, Australia. Her website is www.kavisha.com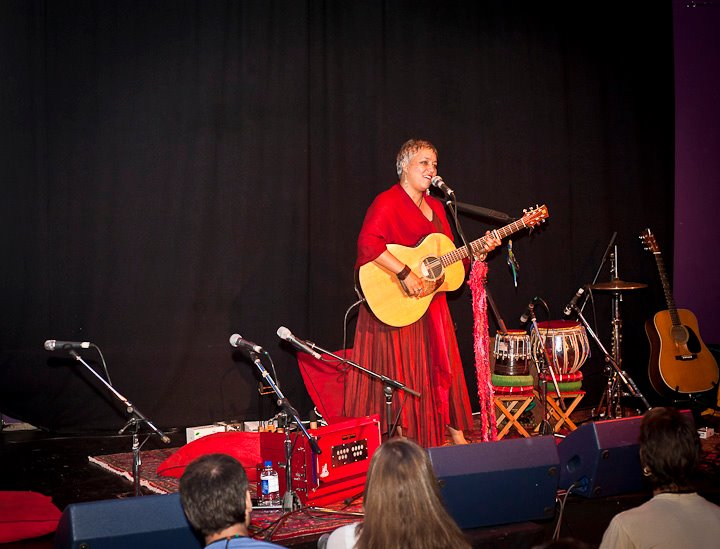 Awardology ( and Nominations )
• Wamia (West Australia Music Industry Awards) 1990,-Song writing award for " Little Sister"
• 1992-WARMIA Songwriting Award for Wedding Sheets
• 1993-WARMIA Outstanding Female Vocalist
• 1996 GREENROOM AWARD For Musical Direction In Theatre For "Emma-Celebrazione!"
• 1998 ARIA Australia Recording Industry Award) Best Traditional/World Album For Fisherman's Daughter"
• 1999 Female ARTIST OF THE YEAR @ Thredbo Global Music Awards.
• 2000 ITALIA NEL MONDO " From The Government Of Italy
• 2001 PUC For Best Individual Artist In A Theatre Production For "Luna"
• 2002 HELPMANN Award Nomination(Co-Written With Angela Chaplin & Kath Thompson) For Best New Australian Work For "Mavis Goes To Timor"
• 2003 A.F.I. Award Nomination For Best Score For "Rosa's Story"For "East Timor, Birth Of A Nation" By Stella Zanataro And Luigi D'aquisto"
• 2003 West Australian Premiers Literary Award Nomination For "Mavis Goes To Timor"
• 2003 AUSTRALIAN WRITERS GUILD AWARDFor Best New Australian Work For "Mavis Goes To Timor" Shared With Angela Chaplin,Katheryn Thompson.
• 2003 ARIA Nomination For Best World Music Album"Silver Hook Tango"
• 2004 PORT FAIRY ARTIST Of The Year
• 2008 VICTORIAN MULTICULTURAL COMMISSION AWARD for excellence Community Arts
• 2010 ABC Limelight Magazine best World release nomination for "Suitcase Serenata "by i Viaggiatori
• 2011 MEMBER OF THE ORDER OF AUSTRALIA for services to community and music,
• 2011 NATIONAL FILM AND SOUND ARCHIVE AWARD for Best Folk cd release for " Love and Sorrow" at the National Folk Festival.
Discology
• 2011 " Love and Sorrow"(Black Market Music) produced by Nano Stern(winner of National Film and Sound Archive Award)
• 2010 " Suitcase Serenata" with I Viaggiatori out with Black Market Music NOMINATED FOR LIMELIGHT MAGAZINE AWARD
• 2007" Yarra Luna" with La Voce Della Luna, Italian Folk Choir( Black Market Music Australia)
• 2006 "Mare Profundo" premiere choir composition with Melbourne Millenium Chorus (the Boite)
• 2005 "Azadi"Songs of Liberation with Melbourne Millenium Chorus (the Boite)
• 2003 " Silver Hook Tango" produced By Gerry O' Bierne(Black Market Music Australia)NOMINATED FOR ARIA
• 2002 "Flight" Concert for Refugees with Melbourne Millenium Chorus (the Boite)with Melbourne Millenium Chorus (the Boite)
• 2001 "Luna"E.P.(Ind),Concert For East Timor with Melbourne Millenium Chorus (the Boite)
• 2000 "Canberra ,Cork , Calgary....Live"(Ind),
• 1999 "Live At The Melbourne Concert Hall "with Melbourne Millenium Chorus
• 1998 "Fisherman's Daughter" produced by Mick Thomas (Black Market Music)WINNER ARIA AWARD
• 1997"Three Shielas" With Judy Small,Bronwyn Calcutt(Crafty Maid),
• 1997 "Stepping Out" La Voce Della Luna Italian women's Choir(Black Market Music)
• 1995 "Mermaids In The Well"produced by Lee Buddle and John Reed (Black Market Music)
• 1993 "Joys Of The Women" (Abc) With Le Gioie Delle Donne Italian Women's Choir
• 1990 I Papaveri" Flowers in The Desert"(indie)
• 1991 Rich'n' Famous " Best Song In The World"( indie)
Bandology
• In 1981 "I Papaveri" With Sanjiva Margio ,Giri Mazzella- Neopolitan And Southern Italian Street Songs Of The 14th To 20th Century
• 1987-1996 "Rich 'N'famous" With John Reed, Lee Buddle,Gary Burke.Peter Grayling,Rueben Kooperman
• 1989 "Le Gioie Delle Donne"(Joys Of The Women) An Italian Women's Choir From Fremantle
• 1993-1998 Fireflies (Original And Trad Material) Collaborations With Musicians Such As John Norton, Louis Mcmanus, Blair Greenburg, Dave Steel, Matthew Arnold, Justin Brady ,Ben Robertson , Archie Cuthbertson And Irini Vela
• 1995-present "La Voce Della Luna "(Voice Of The Moon) Italian Women's Choir In Melbourne With John Norton and Phil Carroll
• 1999-2004 Solo Shows With Various collaborating with Musicians ,Rosie Westbrook,Peter Vadiveloo,Luke O'Neil
• 2006-7 Collaboration with Jazzplayers TREGUA,Gianni Marinucci ,Ronnie Ferella,Danny Gordon.
• 2004-2010 Kavisha Mazzella Trio collaborated with Irine Vela and Peter Vadiveloo
• 2010-13 Kavisha solo ,collaborations with Phil Carroll,Matthew Arnold and various musicians
Festival-Ology
• 1988-1990 Toodjay Folk Festival WA
• 1991-1993 Maleny Qland
• 1994 -2001,2007,2009,2011 WoodfordQ land
• 1992-2004 Port Fairy,Vic
• 2001 Nannup,WA
• 2001,04 Fairbridge,WA
• 1993-2004 Brunswick Music Festival,Vic
• 1991-2000 The National,ACT
• 1996,2001 Sydney Accapella Festival,NSW
• 1999 Cygnet,Tas
• 1999-2002 Blue Mountains,NSW
• 1999,2001 Thredbo World MusicNSW
• 1995 -1998 Victor Harbour SA
• 1998 Canada ,Calgary Folk Fest ,Canmore Folk Fest
• 1998 Italy, Aquila , Abbruzzi -City Of Moreland Artists Exchange
• 1998 Scotland, Speigal Tent ,Edinburugh Fringe
• 1999 Canada@Rogues Folk Club Vancouver ,Full Moon ,
• 1999Edmonton,Calgary Folk Club
• 1999 Ireland , Ballymaloe Music Weekend , Cork Arts Festival@The Lobby Cork city,
• 1999 , New Zealand, Whare Flats Folk Festival , North American Folk Alliance Alberqueque
• 2000 New Caledonia ,Femme Funk Festival ,Noumea.
• 2001 Kalaka/European Union Of Broadcasters Festival In Miscolc,Hungary,
• 2001 Australia Festival Dublin
• 2002 Brunswick Music Festival , Apollo Bay Music Festival, Woodford,
• The Famous Spiegel Tent Melbourne
• 2003 Ranges Folk Fest ,Womadelaide, Brunswick Music Festival.
• 2004 Chewton,Brunswick Music Festival,Port Fairy,National Folk Festival,Fairbridge,Rhythms Of The Outback Festival Kalgoorlie.,Famous Spiegeltent,Melbourne International Arts Festival.
• 2005 Nannup Music Festival W.A.,Troubadour Weekend Lancefield Victoria ,Two Fires Festival Braidwood N.S.W.,National Folk Festival Canberra Act,Wanaka Festival Of Colour New Zealand
• 2006 Fairbridge Festival,National Folk Festival Canberra,
• 2007 Brunswick Music Festival,Troubadour Weekend,Cygnet folk Festival,
• 2007 Melbourne Italian Festival,Port Fairy Winter Festival, Festival Of Voices Tasmania,
• 2007 Maleny Festival of Books and Writing,Northern Notes Writers Festival, Darebin Music Feast,Brunswick Festival, Woodford Folk Festival,National Folk Festival Canberra
• 2008 Brunswick Music Festival,Port Fairy,Fairbridge Festival
• 2009 Illawarra Folk Festival, Brunswick Music festival,Quiet Music festival,Sydney Greek festival,MacKay Festival of Arts,Darebin Music Feast,Global Grooves festival MacKay,
• 2010 ,Cygnet Folk Festival Tas, National Folk Festival Canberra,Brunswick Music festival,Festival Of Voices Tas,Melbourne Festival of Choirs,Coburg Festival,Tablelands Folk Festival,Woodford Qland,Explorations Festival at La Mamma Melbourne
• 2011 Brunswick Music festival VIC,Campaspe Downs Music Festival,Natimuk Fringe Festival, Two Fires festival Braidwood ACT.,Brisbane Italian Festival,Illawarra Folk Festival,Darebin Music Feast.
• 2012 Woodford Folk Festival,Cygnet Folk Festival, Adelaide Fringe Festival,WOMAD, Nannup Folk Festival WA, Nectar Festival WA,Fairbridge festival WA, Ettalong Beach Festival NSW, Bendigo Writers festival , Kununurra Writers festival, Nanga Music Festival WA., Australasian World Music Expo. Melbourne.
• 2013 Backyard BBQ Ballarat, ROTARY North Balwyn Multicultural Festival,Arthurs Creek Bushfire Memorium Festival,Nectar Festival WA,Brunswick Music Festival,National Folk Festival Canberra,Performance Enhancers Arts Centre Vic,Denmark Festival Of Voice WA.Beijing Indie Music Festival,Cafe 69, China,Seniors week Festival Federation Square,Vic.

Theatre-Ology
1996 Green Room award for Musical Direction of "Emma Celebrazione"
2001 PUC award for Eva Luna
Deckchair Theatre Company ,Fremantle WA .Music composition, musical direction and performance.Writing collaboration with Angela Chaplin in 13 shows including "Emma Celebrazione," 1991-97," Eva Luna" 2001 & "Mavis Goes to Timor " 2000-2003.
Brunswick Women's Theatre music composition and musical direction 1995-98
Refuge Theatre Company in collaboration with Carmel Davies Fitzroy Learning Network " I Came without my mother's hand" and "Kan Yama Kan"1998-2003 Composition and performance.
"Mermaids in The Well and The Devil's on my Shoulder" music,composition & performance with author and storyteller Andrew Lindsay 2006-present
-la Mamma Theatre Explorations season 2009,2010.
" Anytime the Wind can Change" stories and original songs with Author Arnold Zable 2006-present - music,composition & performance
" The Colonial The Convict and the Cockatoo" music composition and performance.with Arjun Raina of Sohamasmi Performing Arts- Adelaide Fringe Festival 2011-12 .