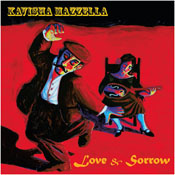 WINNER of the National Film and Sound Archive Award for best folk album 2011
'TIS a musical match made in heaven, though forged in Melbourne during a break in one of Nano Stern's tours. Local artist Kavisha Mazzella was destined to collaborate with the talented young Chilean, whose own work also exudes a Latin passion for life and travel, and a predisposition to break down musical and cultural barriers. Subtle multi-instrumental colouring from the album's producer, allied to an exemplary sound engineering and mixing job by Harry Williamson, has helped convert a batch of characteristically well-crafted songs into Mazzella's magnum opus. Love & Sorrow certainly has an epic sweep, reflecting the writer's "travels and misadventures" near and far, the former in the case of the evocative St Kilda Lullaby, which poetically encapsulates the raffish charms of Melbourne's beachside suburb in lines like: "Luna Park's mask is grinning and blowing the breeze through the dark / The winos are dancing with shadows and glancing for cops as they sleep in the park". Gecko Song, on the other hand, captures the velvety ambience of a tropical Southeast Asian night via a combination of Mazzella's Balinese flute, Stern's marimba and ukulele, and Williamson's gamelan gong. Elsewhere, the South American's nylon-string guitar and harmony singing provide simpatico support to the leader's emotional vocals in Gethsemane and Magdalena. Charango adds a whiff of Andean air to Green Eyed Songbird. Mandolin and fiddle lend a classic British folk feel to All You Sailors.
Tony Hillier The Weekend Australian
Kavisha Mazzella Black Market Music **** (four stars)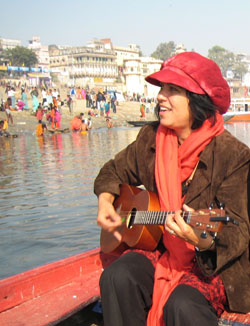 "ARIA award winning artist, Kavisha Mazzella, delivers another album, featuring her exemplary songwriting and singing skills. Her songs marry the rich folk music traditions of her Italian parentage, with an ability to articulate the contemporary everyday. This album produced by Chilean guitarist Nano Stern, has a sweet musicality that enhances Kavisha's sweet,marvelous voice."Paul Barr Readings Books and Music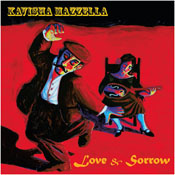 Price is $25 plus postage $5
Booklet of lyrics and drawings are inside front cover! ENJOY!