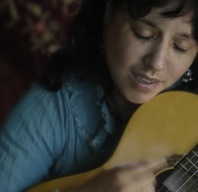 Order through Paypal OR for Personal Orders:
If you dont have credit card facilities,
you can send a cheque or money order
with your postal address to:
Mazzella Music
11 henrietta St Hawthorn VIC 3122
Mermaids in the Well 1995
Under the loving guidance and musical arrangements of Lee Buddle (Soundmine Studios Perth West Australia) and John Reed, this album took 5 years to make! It was released in 1995 Featuring INVISIBLE INDIVISIBLE & CLOUDS OF GLORY.
Fisherman's Daughter - 1998 -ARIA WINNER
Kavisha collaborated with one of Australia's best loved singer-songwriters Michael Thomas ( ex-Weddings, Parties, Anything) to create " Fisherman's Daughter".The album won the 1998 ARIA award for the best Traditional/Folk/ World music album of the year. One of the album's songs "Big Blue Above" was chosen for Australian t.v series Seachange. Features BIG BLUE ABOVE & GYPSY SONG.
Silver Hook Tango- 2003- ARIA nominee
"Kavisha Mazzella, one of the brightest stars on the Australian folk scene, has produced a beauty with her fourth and latest enstallment "Silver Hook Tango." Taking the masterstroke perfect musical settings to accompany her dreamy poetic word pictures. Mazzella's beautiful singing works so well with Gerry O'Beirne's ravishing impressionistic array of guitar sounds."Paul Barr, Readings Book shop Carlton Melbourne. Features SILVER HOOK TANGO,ALL GOD"S BEGGARS & VENEZUELA.
Love and Sorrow -2011-winner of National Film and Sound Archive award
"Tis a musical match made in Heaven" says Tony Hillier of Kavisha's latest album. Produced by Nano Stern and recorded again at Spring Studios Prahan in Melbourne,engineered mixed by Harry Williamson this album features the wordless and beautiful" OLIVE TREE, GECKO SONG, GETHSEMENE and MAGDALENA amongst other lovely songs.
Riturnella 2014- Produced with Andy White and recorded at the Growlery in 2013 This is Kavisha's first solo album . Kavisha plays guitar,mandolin,accordion and gnacchere(neopolitan castenets in a pared down authentic folk sound 13 songs of Love and Betrayal from all over Italy from 1400-1930's" Kavisha's new album is like a good coffee" Pino Lamberti Il Globo Newspapers