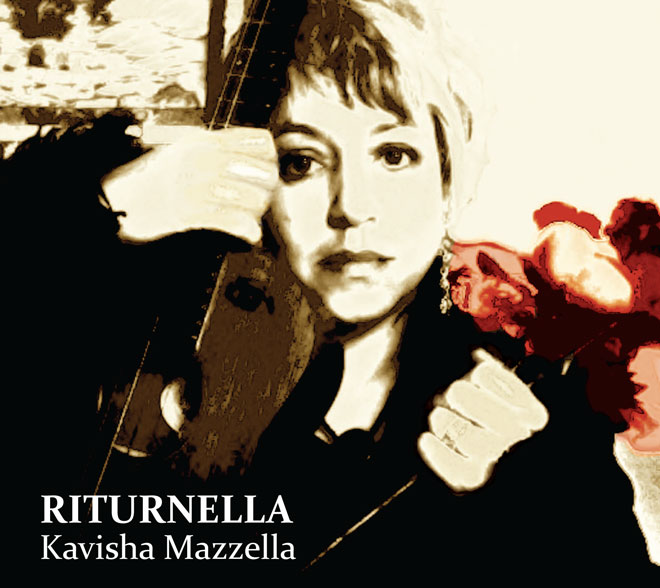 2013 RITURNELLA
Kavisha has finished recording a new Italian Folk Album "RITURNELLA " ( The Swallow )
Co-Produced and engineered by Belfast Poet and songwriter Andy White at the Growlery Studio. Recorded live with Kavisha playing her little spanish nylon string guitar in the classic folk style .the music is authentic,and unnadorned... Kavisha is also playing mandolin, gnnachere (neopolitan castenets) and singing harmonies.These heartbreakingly beautiful songs are little gems in the Italian folk treasury." I have always wanted to do this album.It's the culmination of 30 years of study of these amazing songs."In this collection Kavisha has stylistically made a homage to the great Neopolitan folk singer and song collector Roberto Murolo. Riturnella will be out By the END of 2013... i can send you your copies then!
Thankyou friends!
Fammi Restari (Sicily 1600s)
Riturnella(Calabria 1800s)
Ricciulina(Campania 1700s)
XMAZ SPECIAL !
Get together with friends or simply use as presents - $100 for four copies of Riturnella plus one back catalogue cd of your choice (Mermaids in the Well, or Fishermans Daughter or Silverhook Tango or Love and Sorrow) plus $7 postage:=5 cds all up!
The songs are
Fammi Restari, listen here to the first track of RITURNELLA
Sento Il Fischio
*Riturnella (listen on the this page)
Nova Gelosia
Scura Maie
E tra Lla Lleru
*Ricciulina(listen on this page)
Vulumbrella
Mi Votu Mi Rivotu
Maremma Amara
Angellare`
L'America
Vurria Addeventare
Abit about ARIA award winner Kavisha Mazzella AM
Aria award winner and songbird Kavisha's original song's lyrical ingredients include humour, poetry, social justice and the spiritual. Combine this prowess with the voice of an angel and you have the experience of a Kavisha concert. Singing in English , Italian and oter languages, she will take you on an uplifting boundary riding journey of well-crafted stories and songs ringing with echoes of Celtic, Fado and Gypsy influences that will strike a resounding chord within.
Passioniate about social justice,she was awarded an Order Of Australia in 2011 for her services to singing songwriting and reflecting the experiences of aboriginal,refugee and multicultural communities through her performances.Based in Melbourne Australia,she has played at numerous national and international music and arts festivals since 1991.
WHAT THE PRESS SAY
"Mazzella's voice has a wonderful purity of tone and can lift over a melodic line with bell-like, weightless grace." Jessica Nichols -The Age
"She sings with the voice of a heartbroken angel"Victoria Laurie -The Australian
"Her songs have a great sense of melody and lyrical depth.." Jim Lee, Dirty Linen Magazine. UK
"Irrestistable,heartfelt collection of beautifully produced songs" Robyn Johnston , ABC Radio National on " Love and Sorrow"
"Fabulous album, sophisticated, aromatic, beautiful, soulful, moody." Matthew Donlevy ,Peermusic on " Love and Sorrow"
"Kavisha herself is in as fine a form as ever, delivering her superb mixture of homespun stories and traditional gems. Her voice is shimmering and effortless - she has the remarkable ability to throw her voice at a microphone from a metre away, almost like a ventriloquist, then move right in for the kill." Mike Moroney, Edinborugh Folk Club, Dunedin NZ
"Her voice flows like tears of joy and sorrow.There's a saltiness and warmth of sensuality here that sings the great bitter sweet song of life. Kavisha Mazzella may have the first and last letters of the alphabet in her name but in truth, there's a power and presence in her stage performance which is simply beyond words." Colum Sands - "Rootin'About" for RTE Radio in Dublin. Folkclub BBC Radio Ulster
"Clear and beautiful vocals" Bruce Elder - Sydney Morning Herald
As of December 2013-Kavisha's Music is Now on I Tunes
Kavisha's music on YOUTUBE

include
Invisible Indivisible (live on ROCKWIZ)
Invisible Indivisible (studio recording)
Kavisha Music on
Kavisha Collaborates
BELLA CIAO di Risaia with I Viaggiatori
VA PENSIERO with La Voce Della Luna
LOVE and JUSTICE Women's Anthem with VICTORIAN WOMEN'S TRUST CHOIR
With Australian Artist A .Pelchen and Dutch performer F.Van De Ven
With Franco Di Chiera in film "The Joys Of The Women"
With Rich'n'Famous ( live at Port Fairy Folk Festival )